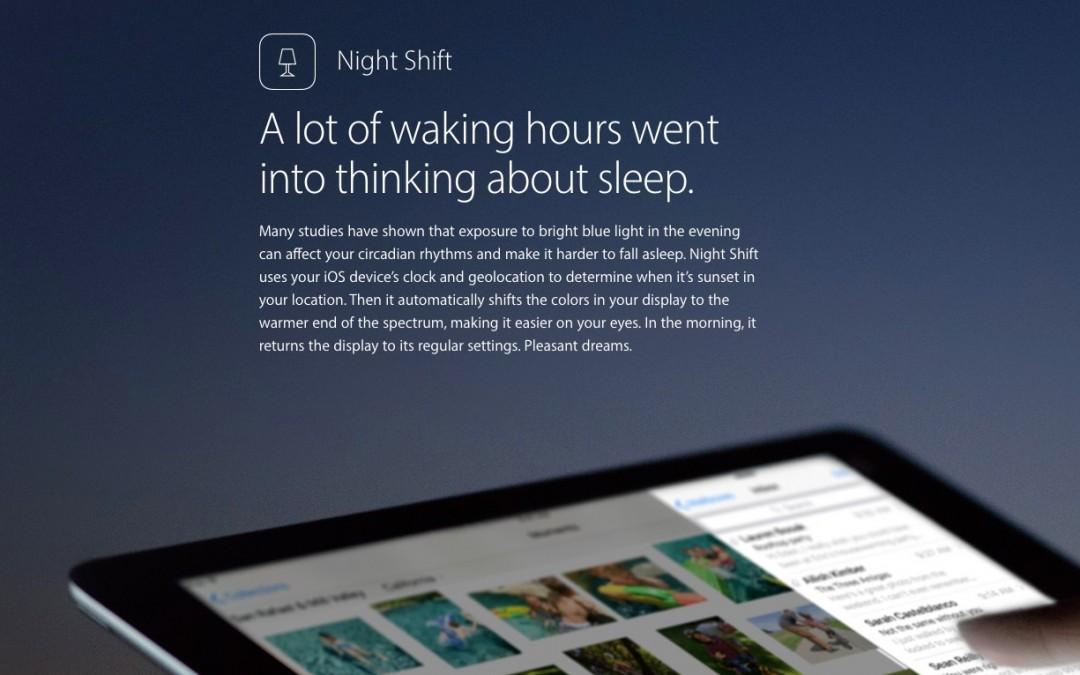 We've all been there. Late at night, staring into our phone or tablet screens. We want to put them down, but somehow can't because the mesmerizing light is, well, mesmerizing.
With its latest release of iOS 9.3, Apple introduces 'Night Shift' — a mode to help reduce the amount of blue light emanating from screens.

Studies have shown that bright blue light can affect circadian rhythms and falling asleep. Apple touts Night Shift as a way to "possibly" lessen the impact by turning screens to the warmer end of the color spectrum. Some dispute that, but that's not what this name review is about.

How does the name 'Night Shift' fare?

First, it's important to take a look at Apple's broader ecosystem of names for modes, non-device products, and features. What we find, surprisingly or not, is a real hodgepodge of name styles.

Here is a snippet of iOS-related names over the years:
App Store
MobileMe
Spotlight
FaceTime
AirPlay
Car Play
Siri
iMessage
iCloud
Passbook
Photo Stream
AirDrop
Touch ID
QuickType
HealthKit
HomeKit


Some are dead simple and descriptive — hello, 'App Store!' Others riff off of the "i" magic — what's up, 'iCloud?' And still more get a little punny while still directly describing the offering — oh, 'FaceTime,' you're such a hoot.
Since Night Shift has two meanings — shifting your screen to a night mode, and working hard for you at night — it essentially falls into the last set of names in the ecosystem: descriptive with a light twist.

And we think that's great territory for the brand to continue to play in.

While there is often a case for launching a new feature or product with a dead-clear name (HealthKit and Touch ID are about as straightforward as you can get), it's nice to see Apple, and hopefully, other brands inside and outside of technology, imbue a little life and spirit along the way.
Could Apple go further and add more personality into feature names?

Absolutely. We'd love to see an ecosystem within iOS and throughout Apple, and even among the competition, that maintains the clarity most of the above names have while dialing up more personality when appropriate.

With device makers of smartphones and tablets so often playing a tit-for-tat game when it comes to features, naming those features with just the right amount of clarity and style could help provide brands more opportunity to differentiate, and reel in more consumers over the long haul.