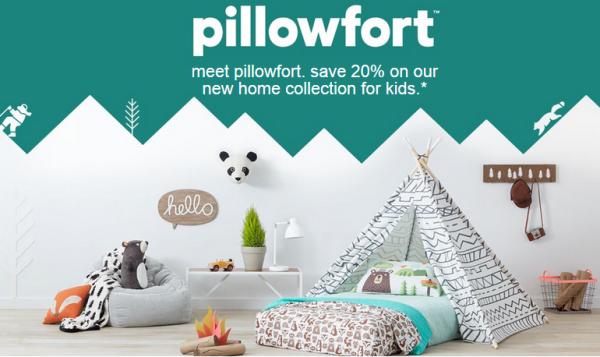 The Fresh Prince once wisely noted that "parents just don't understand." But it's not just parents who don't get it. It sometimes seems like all adults are out of synch with what it means to be a kid.
Well, not the adults in charge at Target. In addition to implementing some merchandising decisions aimed at allowing kids to simply be kids, they've recently launched a delightful new home collection for children: Pillowfort.

Pillowfort is a pretty darn great name.

For starters, it works nicely on a functional level. "Pillow" provides a light cue to a bedroom, which is the go-to spot for kids' home decor.

But where this name really shines is on an emotional level. "Pillowfort" conjures up images of a fun, carefree childhood where imagination runs wild; where blankets and pillows can become anything you dream. This wholesome name fits well with the wholesome aesthetic of the product line. There's nothing gaudy or commercial. It's inspired by the basics and designed to spark the imagination, with themes like treehouses, camping, animals, stars, flowers, and dinosaurs.

Perhaps the best part about Pillowfort is that it doesn't just understand kids — it also understands that parents used to be kids. The joy of a pillow fort is something that everyone can connect with, whether you last built one 30 minutes ago or 30 years ago. Hey, a name that captures timeless joy is a name that's good for all the kids across the land.